People's minds first wander around visuals when they are asked about digital branding. Yes, a brand's logo is important but digital branding is much more than that.
To help you figure out what value digital branding actually holds, here we've explained what's in its core and how it can effect and change the perception of your product in the eyes of your users.
Leave your mark the power way
What makes our favourite apparel shopping website so good? How do we pick the e-commerce site that's best for use? What makes us choose the digital tools that we work with on a daily basis.
For every digital product that we use, we can ask ourselves multiple questions as to why we chose it. We might say that it suits our needs, is very flexible, has a great functionality and gives us an amazing user experience. But how did we reach this conclusion? Before we had an opportunity to form an opinion, we first had to pick the product.
Selecting digital products in today's world is an extremely challenging task, there are tons of digital products with similar functionalities and that have similar offerings. The task is, how do we choose the right one for us?
What we usually do is google the most popular digital products and then take a leap of faith. Here, in lieu of searching for the right one for us, we already trust those most popular products, we just need to figure out which one fits our needs better.
Question now is how do we trust these digital products that we have never used. The answer is a good digital branding.
It's more than the logo
Digital branding implies having the vision as to what your brand is and what is its value. Tagline, colours, typography, shapes of the logo, tool, app, presentational website, newsletter, etc., all of these things are a part of the bigger picture defined by your brand's voice tone.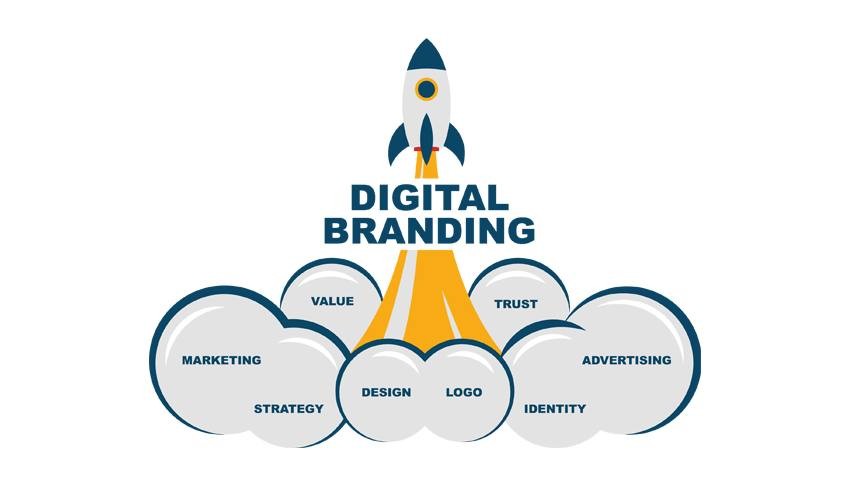 Google drive, Nike, NY Times, Zara, all of our first associations with such brands would be based on the visual aspects. There is a reason why we remember the brand's logo so distinctively and underestimate the importance of other things like emotional branding and the brand's voice tone. 
It's the same thing as humans, in order to be able to relate with something, we need to bond with it emotionally. Shapes and colours are just the well thought out branding-strategy. What comes before this is the core of brand identity, i.e., emotional branding.
It is essential to have a clear vision of your identity because it's the thing that you'll build your brand on. And thus to create that emotional connection, you have to have a clearer vision of your brand.
SOMETHING SPECIAL OF YOUR BRAND
You need to figure those couple of qualities of your brand that make it special, make it stand out from the competitors' brands. For instance, you own an IT company that provides software for easy data managing. Now being able to say that your brand is absolutely safe and secure is not equal to the uniqueness of your brand. It's not the same thing.
For finding out the traits that make your brand stand out, we have to dig deeper in your company and your product. The answer lies within your business model and values. The ideology taps the psychology, it is how we connect to anything. The trigger is always the same'- we connect to the story behind the brand. 
We realize the importance and benefits of having a close knitted relationship with our clients. The process of discovery whilst coming up with an effective digital branding strategy, will also give us the best understanding of the brand. And when we have that, our digital branding strategies get aligned with our clients' goals, which ultimately results in our clients' products reaching the top of the ladder. 
VOICE TO THE BRAND
How many digital storage tools are you aware of, other than Google Drive and Dropbox? Not many, well you aren't to be blamed. Their positioning in the market is so good that there's no space to introduce a new one. Apart from good functionalities, they have "users' trust", which they have built over many years. And by doing so, they have built their entire brand.
When we know our client's vision and goals thoroughly, we can start building a brand that would be positioned in the market in a powerful manner. This way we can help them reach their target audience and at the same time we can save their time and effort that is needed to achieve good results. Yet, building a brand is not at all easy, consistency is everything. Once you make your brand clearer, the other things will become a lot smoother. Having a defined and powerful tone of voice for your brand will always help you stay on the right path of your goals. Now when you give your brand a defined voice and complete the branding, your product will be rightly positioned in the market and would stand out from the others. 
"Start working on your digital branding now, now is better than ever!"