If you want to improve the success of your website, you need to keep working at your SEO. This can be difficult if other parts of your business demand most of your time. To help, we've put together a weekly workout of six short tasks every website owner should try to do weekly. By just spending ten minutes each day, or an hour a week, these activities can have a very beneficial effect on your website and the success of your business.
1. Update old content
Google loves to promote newer content because it provides users with the most up to date and accurate information. This is why older content slowly starts to slide down the rankings. When you update an existing piece of content, the date you publish the changes is recorded and Google becomes aware that it has been modified. For this reason, spending a little time each week updating your content can have a beneficial influence on how those pages rank and make the information more relevant for your readers. Even if you only change one piece of content each week, you'll eventually get around to updating your whole site regularly.
2. Rework your titles and meta descriptions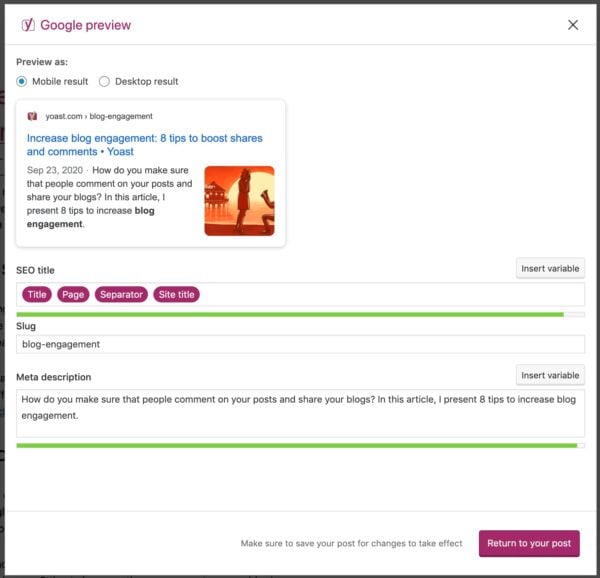 Search engines rely on page and post titles and meta descriptions to discover how relevant your content is to someone's search query – the more relevant they are, the more likely your page is to rank well. At the same time, the title and the meta description appear in the search results and the better these appeal to the user, the more chance it has to be clicked on.
To give your content more chance of ranking and getting a clickthrough as a result, you should look at reworking them from time to time – especially if they have stopped ranking so well. Make sure they both contain your relevant keywords and that they are written in such a way that a human would find them interesting enough to click on.
You can also update your URLs, making them cleaner and easier for a search engine to understand. However, if you do, you will be creating a new address for your page and this means that any external links to the old page won't work. To avoid losing any traffic from links on other sites, you can set up a redirect, so that any traffic aimed at the old URL can be sent directly to your new one and not a 404 error page.
3. Deal with broken Links
Following on from this, you should swiftly deal with any broken links you have on your website, either internal links to your own content or external links to other sites. Having broken links gives your visitors a poor experience and for this reason, search engines will be reluctant to reward you with higher rankings.
Internal links can occur if you've changed the URL of one page and not updated menus or other links to it. It can also happen if you've deleted a page and forgot to remove any links.
Broken external links tend to be the main problem because you may be unaware if a website or page you linked to a while ago is still there.
The easiest way to deal with broken links is to use a plugin that automatically checks for them and notifies you when any have been found. This makes it easy to update the link or, if a suitable alternative cannot be found, to remove it altogether. If you have a lot of links on your site, it certainly reduces the amount of time needed to check them manually.
4. Promote your business on social media
Search engines are beginning to take increasing notice of how brands perform on social media, especially if they are getting good reviews or a lot of likes or shares. Besides having a positive effect on your ranking, social media can also have an enormous impact on your website traffic and business reputation.
For this reason, it is important to post content on your chosen social media platforms on a regular basis and to include links to your website whenever you can. This way, the more a post is liked and shared, the more visitors you are likely to get.
Regular use of social media platforms can increase awareness, familiarity and trust amongst consumers and develop brand loyalty among existing customers – and the more likes and shares you have, the more people will feel that yours is a business which can be relied upon.
5. Check out the competition
If you are looking for content that works, the best place to find it is to see how well your competitors are doing. Analysing the competition is big business and there are many online tools specially created to help discover what content they are publishing and how well it is doing on search engines and social media. You can find titles of posts, the keywords being used, the number of shares and likes on different social media platforms and how much traffic each piece of content generates.
This can give you an in-depth insight into content that is trending and what your target market is looking for. From knowing this, you can then begin to create similar content of your own and gain a share of that traffic for yourself.
6. Reach out to influencers
One of the most important ranking factors is the number of backlinks a website has from high authority websites, especially those in a similar niche. In order to get these backlinks, you need to engage with the people who publish on these sites. You can do this in a number of ways, for example, leaving comments on their blog posts, mentioning and linking to them in your own posts, and liking, sharing, responding to and mentioning them on social media.
The more you engage with them, the more chance you will have of developing a relationship with them where they read and share your content. It takes quite a bit of time to do this – some of these influencers have millions of social media followers and visitors to their sites. A single tweet won't get you noticed.
However, a single tweet from them or a mention in their blog post can send millions of people to your website or lead to higher rankings in Google. The benefits to your business can be substantial and long-lasting. It can be worth the effort.
Conclusion
Ten minutes a day or an hour a week doing these simple but effective SEO tasks can have a significant impact on your website. They can increase ranking, improve click through rates, make site content more relevant and engaging, give you a better understanding of what to post and where, and help you get noticed by those who have influence.