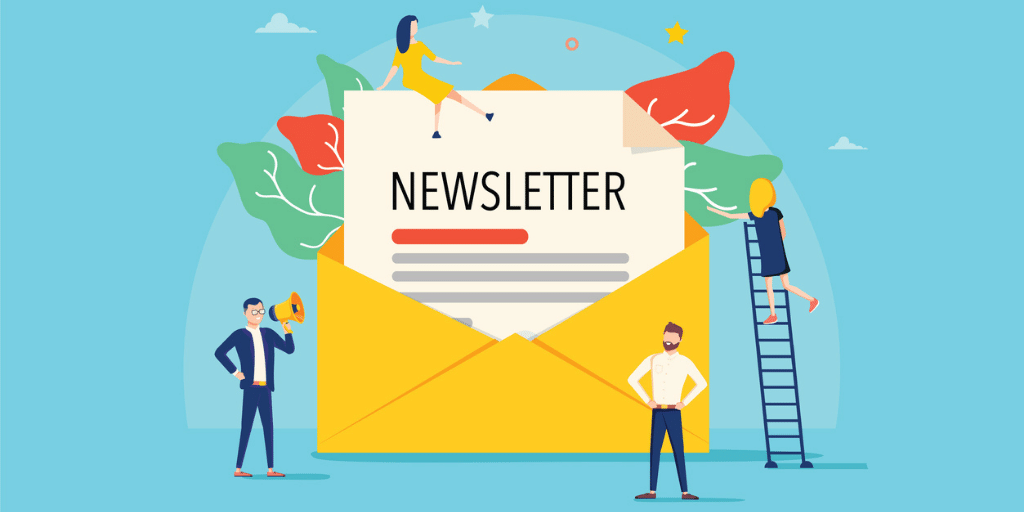 Newsletters are a core element of email marketing and one of the most effective ways of generating new business. They also do wonders for maintaining brand loyalty and for bringing existing customers back to your website. It's no surprise, then, that more than half of all businesses send out newsletters to their subscribers. However, finding constant things to include in weekly postings can be a challenge, especially if you want to cover a range of topics that keep readers engaged. With this in mind, here's a list of ideas for engaging content.
30 ideas for newsletter content:
1) As with this post, send out a list of helpful tips to help solve a particular problem your customers might face.
2) Share thoughts about things you are looking forward to, such as the launch of a new product or an event you are attending.
3) Give advice to customers on areas you have expertise in, e.g., 'How to build a garden shed in easy steps'.
4) Promote social proof – great customer testimonials, 1000 5-star reviews, positive social media comments, etc.
5) Make a video showcasing a product or service and include the link in the newsletter.
6) Publish an engaging post by a guest writer that is relevant to your audience.
7) Create a questionnaire or a poll. Follow this up the following week with the results. This is also helpful for market research.
8) Publish a humorous alternative to a yearly report, replacing boring financials with a more personal insight into the company. For example, the number of babies born, how many boxes of biscuits eaten, money raised from the swear box, etc.
9) Take some of the most frequently asked questions you get on social media and write them up as an interview or an FAQ
10)Celebrate company achievements: an award, a million followers, 10 years in business, etc.
11) Write a recommendation for something industry related – a book, an exhibition, a new tool.
12)Create a series of Top 10 posts covering what your customers and website visitors find most popular: e.g., top 10 Instagram pics, most wished for products, most watched YouTube videos, most liked blog posts.
13) Create a video or slideshow showing what happens behind the scenes in your company. A great way to show off hi-tech facilities, traditional crafts and the human side of your team.
14) Share an eye-opening infographic about your business or sector that would engage your audience. Alternatively, create your own.
15) If you sell products, send out present ideas for special days like mothers' day, fathers' day and Christmas.
16) Celebrate achievements of employees when they pass exams, get new qualifications, win awards or get promoted.
17) Start generating interest in yet to be launched products and services by giving users a pre-release peek at what's on offer. You can do this when upgrading existing products and services too. Great for generating feedback before things go live.
18) Make your subscribers feel special by sending them advanced notice of an upcoming sale – or even better, give them access to the sale before anyone else.
19)Promote the faces behind the brand by creating snapshot biographies of people within the company. Try to get a good balance between the person and the job they do.
20) Write posts about your existing customers which shows how you help them. Even better with images of them with your products or staff.
21) Set up a competition or a giveaway. These always generate a lot of interest. You can follow this up with another post announcing the winner.
22) Write a fun April Fools post about a spoof new product or discovery.
23) Create a post about useful things related to your business. If you're a hairdresser, write about hair products, if you're a joiner, recommend the best wood oils, paints and varnishes. You can then start selling them.
24)Been in the news? Share your fame with a wider audience by mentioning it in the newsletter. Remember to add a link if it's online so your subscribers can see it too.
25)Promote any charities you support. If you are doing a spot of charity fundraising or helping a community project, you can create written posts, videos and photo-journals of what you do. This helps promote the charity and improves your brand's reputation.
26)Help customers by passing on important industry-related news. For example, website developers can send out information about new hacking threats or accountants can talk about the impact of the chancellor's budget.
27) Share greetings on important days, such as Christmas, Eid, Diwali and Hanukkah. There are plenty of others to celebrate too: Halloween, New Years' Day, etc. If you have customers abroad, don't forget their celebrations, too.
28)Make the most of the many special awareness days and weeks by posting appropriate images. Some, like National Chip Week, National Bed Week and National Doodle Day are great opportunities for fun posts.
29) Create a fun but relevant quiz to challenge your subscribers. There are plenty of free tools to make these on the internet. They are also great for getting an understanding of your customers.
30) Send out links to free, downloadable resources such as eBooks and 'how-to' guides that readers will find useful. For example, food retailers can provide recipe books.
Conclusion
Hopefully, the ideas here will provide you with plenty of inspiration to keep your newsletters varied, engaging and fun for your subscribers.