Gone is the time when education ecosystem was restricted to brick and mortar schools. And even the time when people, because of lack of funds had to keep their dreams on hold. The present now belongs to MOOC apps like Coursera and the supporting questions that surround the question – What is the cost of Coursera like app development?
When we talk about mLearning, there are few names that come on top of our head almost instantly – Coursera, Udemy, Lynda by LinkedIn, etc.
All these names that hit our thoughts belong to the sub-category called MOOCs.
Massive Open Online Courses officially came out to play a significant role in the transition from brick and mortar classes to digital.
All the benefits that the category now offered, not just made it a sub-category that students and instructors from around the globe were accepting from open hearts but made it one of the most quickly flourishing industries in a very short time-period.
Let us look a little into the whole MOOC market – the present and expected state, the fundings that the sector has been able to avail and the top players, before we look at what concerns the entrepreneurs most – Cost of coursera like app development.
Present and Estimated Future of the MOOC Market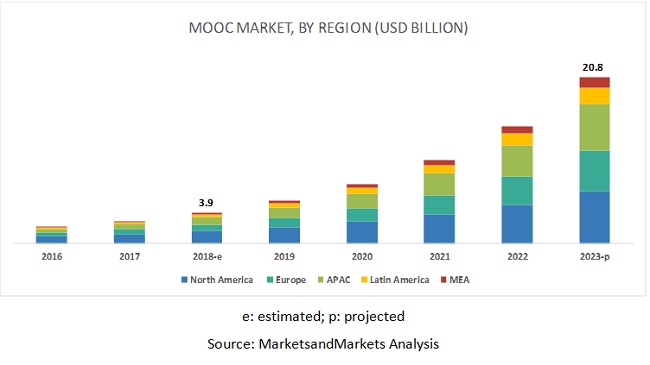 Recent Funding in the Field of mLearning and MOOCs
The market scenario that you just saw is one that has not just attracted market players, as we will see in the next section, but have also warmed up the investment world.
The ease that these MOOC platforms offer to the world full of learners and instructors both in terms of convenience and cost saving is something that has not gotten unnoticed by the investors community. Time and again a number of funding rounds have been happening in the edutech platform, keeping the momentum of Coursera clone app builders high.
Let us look at some of the recent ones –
A. Emeritus, a U.S-Indian company that partners with universities to offer digital courses, landed a $40 million Series C round led by Sequoia India.
B. DataTrained, raised a second round of funding of Rs12Cr from a pool of 3 investors for a stake of 20% in the company in 2018.
C. MasterClass, platform for online video courses on topics from film directing to tennis taught by iconic figures in each field (like Martin Scorsese and Serena Williams) launched in 2015 and has raised $136M from top VC firms like IVP, NEA, and Atomico.
D. In July 2018, Edutech start-up Unacademy announced the closing of a $21 million Series C funding round from SAIF Partners, Sequoia India, and Nexus Venture Partners.
These funding rounds are simply a peek into how big the MOOC sector is and how mobile apps are changing the future of the education sector, especially from the point of view of educational institutions that are witnessing a change.
Now, before we move on to looking at the feature, tech stack info you will need to enter the flourishing market and to answer the question of how much does Coursera like eLearning app development cost, let us look into top market players, you will soon be competing with.
Top Players of the MOOC Domain
The market which is majorly known through the name of Coursera has a number of other names working on constant innovation to eventually become an associated word for MOOCs.
With all of them aiming to earn their own share of the market and revenue pie that the industry has to offer. Let us look at the some of the other established names of the MOOC domain besides Coursera –
The names that we just saw to be ruling the edutech and MOOC domain are not restricted. The list is ever-growing and more and more brands are now entering the segment to try their luck in the flourishing sector.
Now, irrespective of what the headcount of players are today and what is the estimate of its growth are, the one thing which is constant remains – The list of features.
There is a set of features, which is common among all the top players of MOOC sector that have turned out to become the standard or must-have features.
Today, we will be giving you a cost estimate on the basis of these exact features for the additional costs only gets added on the base features. Thus, read our answer to What is the cost of Coursera like app development, as the MVP costs, something that will grow in the direction you would want it to grow.
Without further delay, let us get straight to it.
Must-Have Features of MOOC Apps like Coursera
Here is the list of must have features set shared by our team of mLearning app development experts that will add on to the answer of how much coursera like app development cost. And would also give a clear picture when making eLearning applications.
A. 

Search, Filtration, and Recommendation
It is the first and most important part of the whole eLearning software building process. All the eLearning platforms – website and application, showcases a whole catalogue of courses, which requires a properly outlayed search and filtering mechanism. There should be multiple ways users can arrive at the course that they are looking for –
By entering the keyword in the search bar
According to primary and secondary categories
Filters and sorting
Recommendations
B. 

Stakeholder Profiles
Usually, you will have to accomodate three profiles inside your application, as the top mobile app developers would tell you – Student, Teacher, and Admin when answering how to create Udemy clone app. Let us look at what features the three should individually entail –
Users Profile –
Personal and payment information
List of present and completed courses
Information about the earned credits or points or certificate
History of purchases
Wishlist
Profile settings
Contact admin option
Rating and Review facility
Teacher Profile
Personal and payment information
Create and Submit courses
Dashboard with details of interest shown in their course
Contact admin option
Admin Profile
Modify blacklist users
Modify courses
Get statistics reports
Assign roles to the users
Help with change in subscription plan
Manage newsletter and notification
C. 

Course Creation
There should be a tool integrated within the application that would enable the teachers to develop a course, prepare quizzes, questionnaires, etc. The platform should allow multiple things – design a course structure, write scripts, and add – slides, videos, text, coding exercises, quiz, PDFs, audio files, etc.
D. 

Dashboard
The instructors should be given the facility of a dashboard where they can track several activities and gain useful insights.
Usually, a dashboard consists information on –
Detail of courses
Monitoring of students counts, conversion, and revenue earned
Insights into what the students are looking for.
E. 

Course Detail Page
Every course should be given a dedicated page where all types of features can be feeded in. The page should have details like –
Description of the course
Information about the creator
The instructions of usage
Material required to study the course
Duration of the course
Rating and review
While this was about the course detail page, the course in itself should have – videos that have been pre-recorded, subtitles, quizzes, assignments, discussion forum, and maybe even gamification element to increase user engagement.
F. 

Payments Integration
Since, offering paid courses or taking payment for certification are the two most common source of revenue models present in a MOOC application like Coursera, you will have to have a complete know-how of the process of payment gateway integration for estimating your cost to develop eLearning website like Udemy. There can be multiple payment modes that can be added in the application – Debit/Credit, UPI based, and integration of P2P Payment systems like PayPal, Venmo, etc.
G. 

Notifications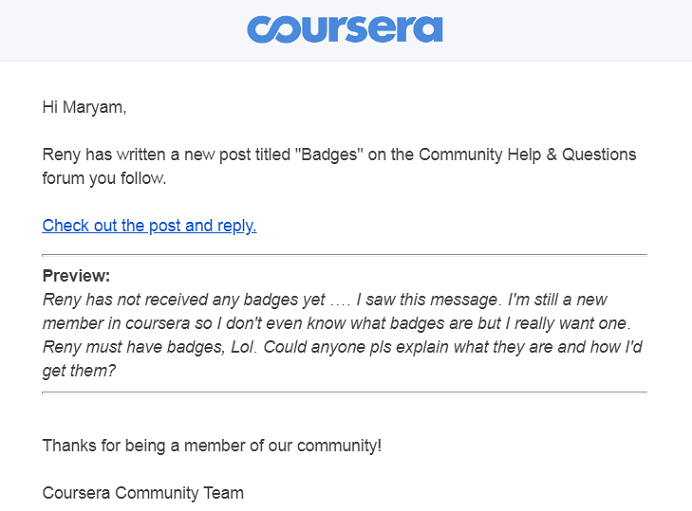 Notifications, as we have discussed on multiple instances before, is one of those important mobile app design tips that improve conversions. You should integrate the notification mechanism in the app in a way that the users are always updated about the topics they are interested in.
H. 

Business Side of the App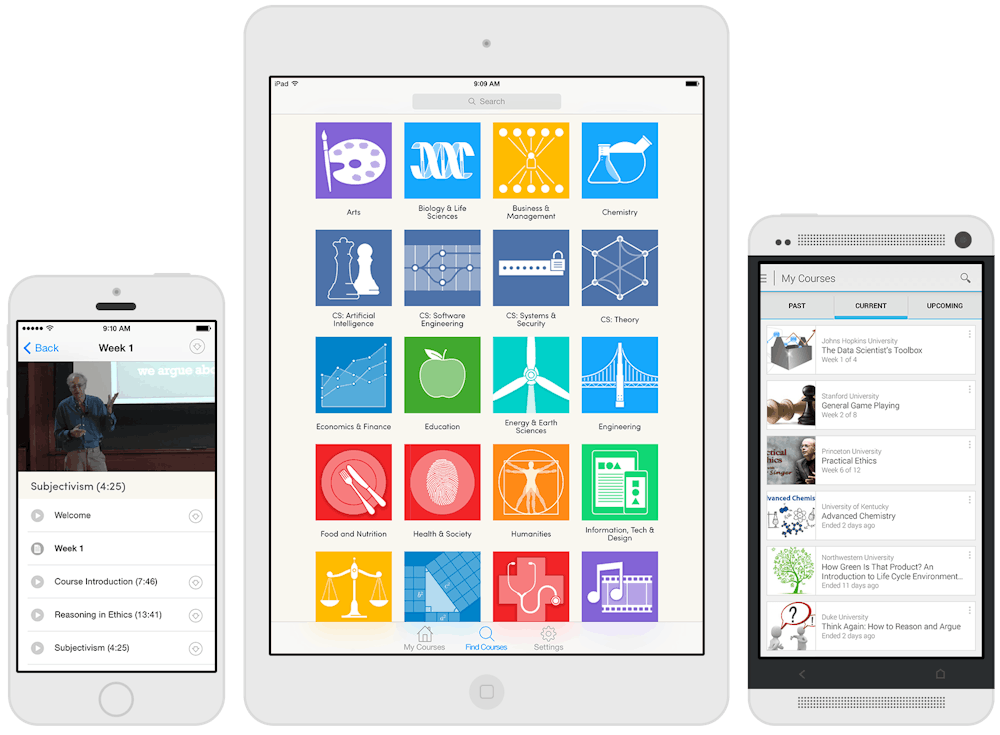 Although this is a feature that must be added at a much later stage, the option enables companies to give learning material to their employees. With the help of an API, you can send in the details of the employee's learning progress to the partnered company.
Now that we have looked at the different features that must be present in you application to bring it to a point where it contributes into the flourishing market, it is time to look into a factor that according to all the for dummies mobile app development guide deem important – Technology Stack.
Technology Stack for Coursera and Udemy like Applications
Here is the technology stack that apps like Coursera and Udemy are usually based on.
Language – JavaScript, Scala, php, Python
Web Server – Nginx
Storage – Amazon S3
Database – Amazon's Relational Database Service, MySQL
Search – Amazon CloudSearch, Elastic Search
After seeing all the technical and market side of the coursera like app development, we have finally arrived at the section which will have a direct impact on your dreams to enter the edutech domain – How much does it cost to make a Coursera like application.
Cost of Coursera Like Mobile App Development
Now, while the answer to the question depends entirely on what you wish to add in the application, in case you are looking to go with the features we mentioned above and are planning to keep the technology stack same as well, the cost range will come down to something like this – USD 76,500 to USD 1,03,000.
However, what we would like to specify here is that while this is just a basic level cost, it does not necessarily mean that it would also be YOUR eLearning app development expenses. The more the features you plan on adding in the application, the greater would be the ultimate cost of the application.
Revenue Model
Now that we have looked at a number of different elements surrounding the development of MOOC apps like Coursera or Udemy, along with the answer of how much it would cost you to develop a coursera like application, it is time to look at the ways you earn money. Ways that we help our clients with in our role as the top education app development company of the nation.
So, as a parting note let us see how get back and grow the money you had put into the development of your MOOC application.
A. 

Paid Certificate
Course certificate is the one element which majorly attract students to the eLearning MOOC platforms like Udemy or Coursera. The fact that students will have to pay an amount which is a lot less than what a full-time college would cost is something that makes them pay for certificates very willingly.
B. 

Subscriptions
A common mode of earning money within the MOOC platform which quickly covers up the cost of coursera like app development is subscription. The students in this revenue model are asked to enroll in the app for free for a fixed period of time before they are asked to pay to complete the course.
C. 

Affiliate Marketing
Platforms both new in the market and old can earn good amounts through affiliate marketing. By simply following a process where they add an Amazon link in the course and then directing people to that Amazon link from where the users purchase the book, brands can earn good amount in name of affiliate marketing.
D. 

Corporate Learning
While this is the step that will only show results once your app has established itself in the market, you can in fact keep corporate learning as a part of your future business objective. For, it is estimated that the role of corporate learning mobile apps will be on a high in 2019. Coursera and Udemy already have a separate corporate learning packages in place, which makes it possible for them to charge on user group basis.
With this, you now have the answer to not just how much Coursera like app development costs but also  to everything that you need to get started and then even earn money from. Well, there is just one thing left to do now – Get in touch with our educational app developers.