While forward-thinking companies are rapidly investing in their technology resources, they're doing the same for their human resources.
That's because these organizations know that the workforce of the future isn't made up solely of robots. Instead, the workforce of the future is an "augmented" one, where humans and AI work together to drive greater efficiency, innovation, and business success.
Humans and AI? Better together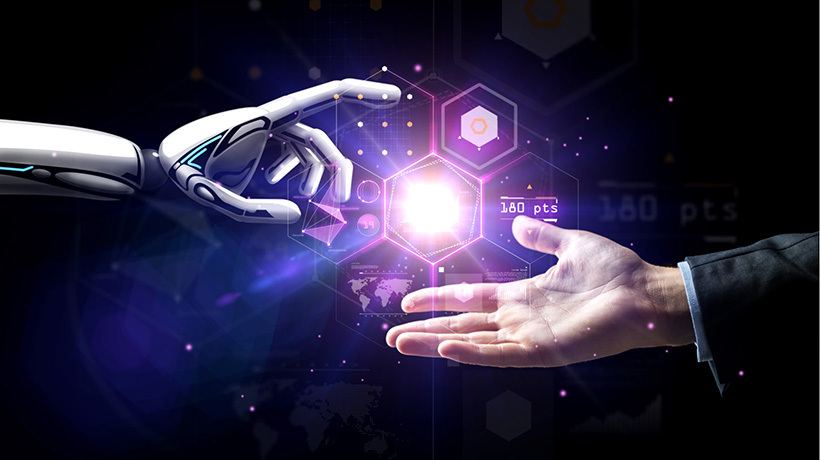 As AI capabilities take over repetitive, more routine functions, human workers will be needed more than ever to not only manage and supervise technology but engage in higher cognitive functions, such as creativity, innovation, persuasion, and decision making.
Mercer describes this new, blended workforce as one that is "human-led and technology-enabled." This idea of augmentation means that humans still matter in the workforce, despite fears to the contrary. While experts predict that 52% of existing human tasks will be performed by robots by 2025, technology will create 133 million new jobs by 2022.
According to Mark Sears, founder and CEO of CloudFactory, as quoted in Robotics Business Review, "People will always play important roles in the workplace of the future. Even in highly automated environments, people must continue to develop, train, and iterate machine learning models to facilitate robotic automation. The feedback provided by the humans in the loop—even in highly automated environments—is critical to the success of automation."
Building an effective augmented workforce starts with learning
A high-functioning augmented workforce depends on effectively managing its two core elements: technology and people. But while the AI piece of augmentation depends on choosing the right technology, managing the human element isn't as straightforward. The skills shortage means that organizations can't simply hire their way to an agile, upskilled workforce. Instead, organizations must begin focusing on creating the workforce they need by engaging and retaining existing employees.
A successful augmented workforce requires highly trained, agile, continuously upskilled employees—employees who are both eager to learn and simultaneously given the opportunity to learn by their employers. HR has long known that learning is key to both employee engagement and retention.
In the age of digital transformation, learning has an additional, equally significant benefit: organizations that provide ongoing learning are anticipated to outperform those who don't. Putting learning at the center of the organization enables the creation of a workforce that is always ready to work with and adapt to changing technology and the market, thus making the organization far more flexible and agile in an era of constant disruption.
The six keys to getting started
Building an augmented workforce begins with building a learning organization, one that enables employees to learn continuously, quickly upskill as needed, and drive their own careers paths.
For organizations accustomed to providing an employee stipend for a college course or offering one-day workshops, this new approach– learning at the center of the organization rather than at its periphery—can seem overwhelming. But while becoming a learning organization is crucial to remaining successful amid constant change, the transformation doesn't have to happen overnight.
Organizations can begin with six manageable steps, efforts that help prioritize development and nurture learning for the long term:
1. Establish a learning culture. Start Thinking of learning as something that happens every day, within every job, for every employee, from hire to retire. Enable employees to try new skills and fail. In the workplace of the future, failure is an opportunity to move forward.
2. Nurture curiosity by offering learning opportunities to everyone. Research shows that every generation (not just Millennials) wants to learn. Offer learning opportunities to those in entry-level and leadership roles–and every role in between.
3. Enable learners to drive their own learning. Let employees follow their curiosity. Offer a wide range of accessible, ongoing, and free opportunities.
4. Develop learning agility. Learning agility isn't an innate skill. To drive efficient upskilling, vanguard organizations are teaching employees how to learn effectively.
5. Create career paths that are not so much traditional as transformational. See beyond traditional hierarchies and realize that the careers of the future will be very different than those of today. By offering a wide variety of developmental experiences, organizations can inspire employees to define their own career paths (and simultaneously encourage them to stay).
6. Offer empowerment, not entanglement. Offering employees ongoing learning doesn't guarantee they'll stay. However, by offering learning portability, organizations create an environment of trust and employee empowerment. And as more organizations do the same, employees will be free to find the right work "home" and thus be more productive and engaged.
The convergence of learning and work in the digital era.
Who wins in the digital era? Organizations that use both people and technology resources efficiently—the augmented workforce. While the use of AI for routine tasks is on the rise, the abilities unique to human beings—the cognitive, the creative, the empathetic—are still crucial to an organization's long-term success. How then can organizations help the human workforce make this shift, from manual tasks to cognitive and creative roles? By making ongoing learning central to work and placing development opportunities at the core of every role. Practically, this means creating an employee-centric learning environment, such as a multi-platform, agile methodology where the learner's experience is the focus.