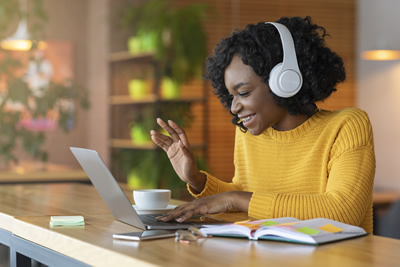 Like many others, my family and I have done our best to enjoy the unexpectedly large amount of time we have together at home due to social distancing guidelines. Adjusting to the new normal, we have relied heavily on Internet access not only for work and school, but to stay sane and keep the peace. My wife and I both continue to work from home, frequently videoconferencing and collaborating with colleagues. The kids finished the school year online and now they are starting the new school year with a mixed arrangement of physical and virtual learning. Many hours of streaming video have been consumed. This isn't an experience we want to repeat, but I believe it would have been far more difficult and stressful if we lacked the connectivity needed to remain productive, informed, and entertained during these times. Without that high-speed connection to the digital realm, this experience would feel more like we were stranded in a country where we didn't speak the language — surrounded by activity yet unable to participate. It would create the very real feeling of "looking in from the outside." The rapid onset of social distancing or stay-at-home measures has created just this feeling for a large number of people. Across the world, many people were suddenly thrust into unfamiliar remote working situations. And with the global percentage of households connected to the internet at only 55%, many organizations, in turn, discovered a digital divide that needed to be bridged for some employees. For example, some companies successfully stood up the infrastructure and processes necessary to support new remote capabilities, only to find that some of their employees lacked the connectivity or technological proficiency to be productive remote workers.
These current circumstances have placed the digital divide –not always apparent to many companies previously — into sharp relief. They've shown that digital life skills and work skills – not to mention the access to technology and connectivity needed to enable those skills — are as essential to us now as hunting and horseback riding were to our ancestors. Like STEM education, an emphasis on digital skill-building could help many people be more productive and could provide them a better work environment, more income, and a brighter future.
Infrastructure and processes to bridge the digital divide
Other related questions around remote work abound, especially in terms of corporate infrastructure. Would employees be able to use devices they already owned to perform their jobs, or would they need to be supplied with equipment? Where would that come from and how would it be prepared to access corporate data? And many were unprepared and unsure if their network was up to the task when demand suddenly shifted from inside the enterprise to requests from remote workers.
Processes were another big issue. In addition to addressing where we work, enterprises have had to consider how we work. What tasks does a company perform that must continue and could those be adapted for remote access? For some, the work needed to turn this into a distributed, remote work process was well documented. Team-oriented jobs, however, required more reengineering and may not have been as well defined.
Remote working: temporary or permanent?
Over the past few months, we have been helping our global enterprise customers adopt to this new environment and discussing the future of workplace. Many are debating whether remote work is a temporary fix or a permanent shift. In every case, I'm sure they will be reflecting on this experience and its challenges – and the digital divide in particular – to help them improve their resilience and that of their employees. These lessons will heavily influence the investments they make going forward in all areas of technology, training and business process reengineering.