If you are a Snapchat user, you would agree that the Snapchat's Lenses is the best thing about the app. You can add amazing AR filters and elements to your pictures and share with friends.
Till now, the Augmented Reality filters in the app were limited, but now the Snap has introduced an AR animation creation tool, called Lens Studio App, which will encourage people to create and share their own AR filters.
Do you know? Snapchat is the first company to introduce Augmented Reality lenses to the public.
Lens Studio App for AR Creation
Lens Studio desktop app is the simpler version of what Snap's own team is using for creating AR filters. It is free to download for Mac or Windows, and easy to use.
In Lens Studio, one can design static or animated objects, 2D cutouts, floating picture frames, windows to the other world, 3D objects and much more. These filters and objects can be seen using the rear camera in Snapchat and react when you tap, look at or approach them. Isn't it interesting?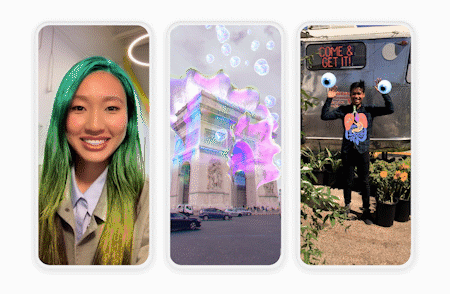 The Augmented Reality filters you create are firstly verified by Snapchat's moderators to ensure that they are not related to weapons, stereotypes, violence, nudity, hashtags, hatred, violence or some illegal activity. Once verified, you get a Snapcode which you can share with the other users via social media, print materials, website, or other means.
The users can scan the code and use the Augmented Reality filter for next 24 hours. This time limitation to use a snapcode is expected to be discouraging for the overuse of a particular lens, limiting the burnout among the developer's friends and viewers. However, it is an opportunity for the developers to update their code and provide a better user experience.
"This has been an amazing year for AR as a technology," says Eitan Pilipski, who leads Snap's camera platform team. "We are really excited to take this AR filters tool, and make it as simple as possible for anyone using Snapchat."
Snap has partnered with seven AR development companies to build 'world lenses' for the rear-facing camera and 'face senses' for selfie camera, namely Media Monks, Avatar Labs, Trigger, Fishermen Labs, North Kingdom, Haus, and VidMob. Besides this, the company has said that the regular users would be facilitated with the opportunity to develop AR face filters, though no definite timeline is mentioned.
Snapchat is also looking forward to initiating various Lens Studio challenges, where they will offer rewards to AR app developers who create Lenses as per the proposed theme or use case. Right now, it is assumed that the recognition will be given on the new Lens Studio website. However, it can be expected to be switched to the Snap's app to drive developer's interest in the platform.
The release of AR animation creating tool is supposed to be not limited to hobbyist or developers. Rather, it is expected to be great medium for the companies to advertise their products/services. It's also taken into an acknowledgement that the Snapchat has experienced a fall in its user engagement, and has introduced this feature to remain in the competition; there's no proof that offering World lenses to everyone around will put Instagram on notice.