One of my ex-colleagues left her job to move to a new organization in Feb 2020. She worked in her new workplace for one month before the world shut down. Just like everyone, her entire organization shifted to remote. A few weeks into the lockdown, I called her to catch up. We talked about random things and she told me that she badly missed Anteelo– the people, the culture, and the feeling of oneness.It wasn't that her current organization didn't have a good culture. No. In fact, she was happy in her new role. Her peers were friendly, the work was challenging, and her leader was supportive. She just missed the camaraderie in her new workplace.
My friend is one of those rare people who kickstarts conversations, takes initiatives, and makes friends easily. But in the new organization, she felt limited by the barriers created by remote work. Before lockdown, she hardly got much time to bond with her colleagues and now in the lockdown, whenever she tried a new initiative, it crashed after leaving her circle of influence (which by the way was limited to her team). All of this despritied her.
And she isn't alone.
The feeling of 'I don't have any friends at work', 'I still feel like a stranger in a foreign land', 'I don't think anyone likes me here', is quite common. And though, it's normal to feel these emotions in the initial few months when people are settling in, but beyond that, they are a RED FLAG.
A dissatisfied new hire is like a person standing at the edge of a mountain. We can't let them slip.
One of the solutions to tackle this problem is to spend more time onboarding them — defining the relationship with the new hire sets the right foundation.
A good onboarding practice ensures that the new hire is aligned with the vision of the organization and has enough resources and support to wade through the nitty gritty of how things work in the organization. A good onboarding is like a first impression. If you get it right at the honeymoon phase, you're likely to be together for a long time.
But all this was easy when a new hire joined in a physical workplace. The part where they met their peers, received a warm welcome at their desk, participated in onboarding rituals, all of this added a personal touch to their onboarding experience. If they had any concerns, they could easily reach out to people, or ask for help. Their problems were addressed in real-time, and were given importance (and precedence) over other regular day-tasks.
Those were old days. Sigh!
In the new world order, the physical distance has posed a new challenge to integrate the new hires into the organization's soul. So how does one ensure that the new hires receive the same (or even better) virtual onboarding experience and feel welcomed.
I can share a few changes we made to Anteelo' onboarding process. It's not bullet-proof. But I like the fact that we acted fast and made changes well in time.
Interact with the new hires before they join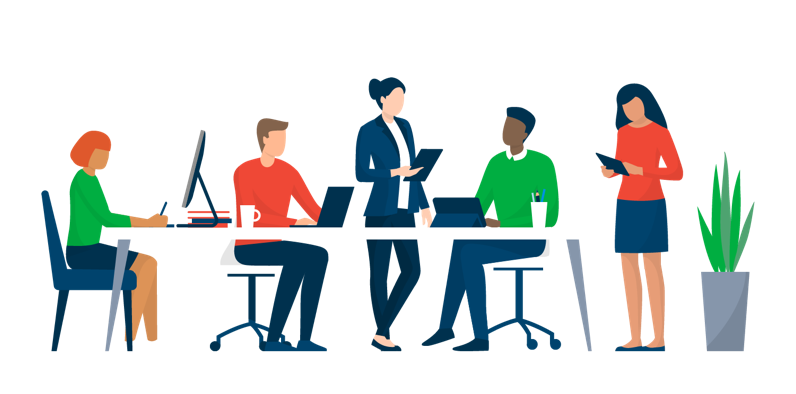 In the new normal, we started a new practice– after new hires accepted the offer to join the organization, we spent some time connecting with them informally. We shared our excitement about welcoming them in the team. We also gave them an overview of the project they'll be working on and shared a little bit about the existing team members so that they knew whom they'll be working with.
If you wish to imbibe this practice, you can add some extra elements like talking to them about their expectations, their feelings about joining your organization and so on. The idea is to make them comfortable and let them know you're expecting them to join your tribe soon.
Involve the existing team members in the onboarding process
In the old normal, team members were the first ones that got acquainted with the new joinee. The team was responsible for making sure they went together on lunch and coffee breaks and made the person comfortable.
In the virtual setup, none of this is possible. But that doesn't mean that we shouldn't make efforts to make the new hire feel welcomed. At Anteelo, we tackled this problem by taking turns on video calls and talking to the new team members on their first day. Every time a new Quant joined our team, we asked him/her about their day, and if they needed any help.
These are little things, and you might feel that you're interrupting/disturbing the new person. But it's the only way to ensure that he/she feels comfortable in the new setup.
Give them a virtual tour of your office
We all are itching to go back to our cozy nook in the office, to feel the warmth of workplace vibes, to smile, greet, bump into each other. Imagine the enormity of this itch in new hires– how does my new workplace look, where would I sit when I join the office, would there be a coffee machine, a foosball table, a breakout area?
I bet there are other questions too that they go through in their mind while making the decision to switch. One of the solutions that we discovered is giving a virtual tour of the office through videos/photos. It not only settles their curiosity and piques their interest, but also helps build familiarity with the organization.
Retrospect on your onboarding kit
Earlier our onboarding kit consisted of a laptop, a bag and a notebook. We thought of it as a whole because our other practices complemented the physical kit. We spent hours talking to the new hire– introducing them to everyone, aligning them to their peers, and being with them through every step of the onboarding.
This year, we asked ourselves– what else can we add in the virtual onboarding kit so that it brings a smile on their face? We wanted to keep the gesture small but impactful. So we designed a greeting card that welcomes the new team member and added a small potted plant in the virtual onboarding kit.
The card has a message to welcome them to our team. The potted plant is a gesture of how we wish to see them grow with us, just like the plant. It's a small change, and we're happy everyone likes it (so far).
Set up a central repository of resources
The shift to the remote setup was abrupt. But, it made us realize the mistakes we were making earlier. We realized that it's unfair to expect new people to remember everything. Going through all the information related to the organization in one go is exhausting.
So we made the shift to a digital setup by making a central repository of every information. Everything is now available on Zepplin — be it leave guidelines, WFH manual or core values of our organization. We let our new team members be the owner of how, when and through what medium they want to access information.
Engage with them regularly
A regular practice to engage with new team members is to give them a stack of PDFs, videos, and presentations about the organization. It's easy to consider that the new team member will find what they need from this Pandora box of information.
We made a shift in our mindset. We started engaging with our new team members regularly through weekly, monthly 1:1s and began asking them how it was going. By making them participate in pop quizzes and activities around our practices and vision, we eased out their familiarity with the organization.
Couple them with a work-buddy
A buddy at work is like a friend who can steer you through a freshman party and help you make new friends. At Anteelo, we always had the buddy system. In the remote setup, being a buddy to a new hire turned out to be an even bigger responsibility.
So we tweaked the guidelines a bit and motivated the work-buddy to be more open, approachable, and proactive in their conversations with the new Quant.
Apart from these virtual onboarding practices, you can even leverage social media to your advantage. By welcoming people on your social media platforms, introducing them in your network, you send them a message that you're welcoming them wholeheartedly.
Good onboarding practices help you retain the talent for a much longer period. So, make sure a new hire's first few months are positive and productive.