The knowledge of B2B marketing trends can assist you to keep a rhythm in the competition, not only following the greatest and latest B2B marketing trend revolutionize your business. You will be able to make more strategic decisions when you can take a step back and look at your place in the market and the trends influencing it.
Digital marketing is continually growing as new technologies by that customers change their buying habits. It is no surprise that the COVID-19 pandemic had a big influence on internet marketing spends in 2020. B2B advertisers have more focused on reaching their target viewers through desktop formats.
Interactive virtual events and webinars saw a huge enhance in popularity. In 2020, a great change shows in almost every industry. So, in this article, let's take a look at the trends that impacting B2B organizations these days:
Consumer Experience, First and Leading:
Your B2B marketing approach requires being customer-centric. It is one digital marketing trend that will never move. Consumer experience has played a big role in a lot of the transformative efforts developed as a consequence of the pandemic.
Brands focused more heavily on making attractive and interactive experiences with B2B buyers stuck at home. In spite of everything, inhabitants stuck at home are surrounded by distractions containing every piece of media ever created.
When people can pull up the latest theatrical movie release on their smartphones, How do you compete for somebody's attention? Interactive elements such as polls, games, surveys, and breakout sessions assisted B2B brands to attract the attention of audience members.
More immersive digital experiences are still required to connect viewers that are already getting bored with basic webinars. Without any doubt, these trends are influenced by generational demographics.
At the moment, as much as 73% of all B2B purchasers are millennials, so the above consumer-experience potentials are naturally inbuilt into their purchasing habits and lifestyles based in their educational environments.
A large B2B software vendor, for instance, should have authentic organic search presences and faster problem-resolution protocols that they may probably not have required years ago. A lack of positive referrals on social media and negative comments can lead to permanent reputational harm and fewer leads.
Artificial Intelligence:
One of the ways companies are addressing CX requirements is through the make use of artificial intelligence. Chatbots, for instance, give customers a suitable approach to get an answer to a straightforward question. These days, AI becomes an essential part of internet marketing.
In addition, they free up consumer service agents' time more than 50% of agents with AI chatbots can spend most of their time solving compound problems. Without any doubt, Chatbots have developed in implementation, but there is a dissimilarity of AI for purchasers.
Programmatic advertising marketplaces are more generally integrating artificial intelligence into their connecting publishers, advertisers, and ad buying methods with more efficiency, accuracy, and speed. Artificial intelligence is still comparatively emerging in the content marketing industry from the standpoint of authentic manufacture.
It can pull out key insights and decode structured data sets throughout machine learning, but transferring that information into natural content is not easy. For instance, a tool can help B2B marketers to better recognize what their viewers want to read about.
Marketing Automation Adoption and Integration:
The content marketing supply chain is developed for automation at almost all stages. The production of marketing automation platforms, tools, and plug-ins has made the content more cost-effective and efficient from keyword research and creation to distribution and measurement. According to recent research from Forrester, global marketing automation spending is estimated to enhance to $25 billion by 2023. Authentic marketing automation systems are used by nearly 40% of B2B brands, though other kinds of marketing have even high acceptance rates. These diverse technologies are often integrated, therefore automation is basically unavoidable in this era of marketing and it is a good thing.
Account-based Marketing:
Account-based marketing has been a bellwether for the last couple of years. In 2020, more than 40% of marketers said that the pandemic had changed their account-based marketing intentions. Of those marketers, nearly 50% said they changed their goals to focus more on increasing business with accessible accounts. While nearly 30% decreased their budgets due to the pandemic.
Succeed with these strategy turning points on a close relationship and bringing together between the marketing and sales teams. Teamwork between marketing and sales stakeholders can assist marketers to identify the best forecast within the target viewers for an account-based marketing strategy.
This kind of strategy of marketing and sales teams is also the best example for small businesses. Account-based marketing assists small businesses to better focus on their marketing efforts. Relative to other marketing activities, Practitioners say that it assists the sales and marketing to align and make better use of marketing materials. There are a lot of companies of web designing India that do account-based marketing to grow their company.
Video Marketing and Augmented Reality:
Now that highly developed digital marketing approaches such that augmented reality and video content are more reachable, these are tools that B2B marketers ought to not ignore. Video marketing is particularly influential for B2Bs and is able to bring a more illustration phase to the purchaser's journey. At present, most organizations are controlling case studies for video content to sustain their marketing hard work.
And this trend is making grip in the B2B market. Besides, at the moment, more than 70% of B2B purchasers watch videos as part of their manufactured goods research ahead of conversion. In 2021, Video advertising continues to grow. Streaming video has grown into something similar to a survival tool with inhabitants stuck at home. Videos not only entertain but also teach the people.
That is the reason why top web development companies adopt video marketing. B2B purchasers can get an advantage from branded videos by learning about gaining new skills and new trends. Alternatively, augmented reality can reach video content to new heights. This is predominantly true when the B2B Company has physical manufactured goods to show off. Augmented reality can be the ideal technique to maintain the journey of B2B purchasers.
Podcasts:
There are more than 850000 active podcasts in 2020. Bearing in mind that more than half of all U.S. adults listen to one or more podcasts every month, they symbolize a practical way to reach engaged consumers. In fact, podcasting ad revenue is predicted to improve by $1 billion in 2020. Brands that make their own podcasts have a grand chance to formulate deeper relations with their spectators.
Podcasts may be more casual than usual content marketing efforts, which permits the consumers to indicate the personality of the human beings behind their most-wanted brands. And after that, there is a further side of podcasting: shows about marketing that plan to assist B2B vendors to grow up.
They may not be as commonly interesting, but podcasts about marketing can definitely train you more than two things. Content Champion from Content Marketing Institute and Idea Cast from Harvard Business Review have been long-running marketing podcasts of approval.
With our podcast Above the Fold, we are also moving with a full head of steam. B2B marketers are viewing them as the perfect format for linking with on-the-move auditory viewers.
Paid Ads:
One side of the marketing coin is natural to search. B2B brands have found that paid search ads can be an assessable and rapid method to immediately natural listings in Google search engine result pages and stand out from opponent's posts. For instance, the search term "web development" only returns two outcomes above the fold.
One is an ad from SEMrush and the other is a featured snippet from Yoast. But, what about the other listings that are also come into view on Page 1? Those positions belong to the immense industry. That's the advantage of paid ads. whereas all the statistics natural content marketing produces three times as many leads as paid ads, that's not the entire story.
Search ads actually receive twice as many clicks as organic listings for commercial-intent keywords. Hence, the lesson is that navigational and informational content cannot be suitable for paid ads, but commercial content may be. You no need to waste your capital paying for advertising campaigns made around wrong-intent keywords.
That is the reason why jointly organic and paid strategies are essential for brand consciousness; search engine result pages high-intent and visibility traffic in 2021. And B2B marketers are taking the hint that more than 50% of big companies are leveraging paid ads along with content marketing.
Additionally, brands that spend a lot on pay-per-click (PPC) promotions ought to be alert of the coming removal of tracking cookies. In 2021, B2B marketers will be on the lookout for new customs to recognize and reach their customers through ad networks without access to robust customer data.
Social Channels Continue to Develop:
LinkedIn is still the top place for B2B marketers to reach their viewers with over 706 million members. The professional networking website replaced traditional in-person events approximately entirely in 2020, which means more professionals are connected on the website.
LinkedIn's live streaming feature allows brands to speak straightforwardly with consumers and after that influence the recording as an important asset going forward.
And while Instagram, Facebook, and Twitter stay in the top positions to reach consumers a new stage of popularity. The same can be said for the early days of any other social media networking platform. Get involve now can position B2B brands to develop their power on the platform to a great extent in 2021. The video-centric platform is great for innovative marketing efforts that have the possibility to go viral.
Lead conversion:
Put more focus on actual macro conversions as B2B brands' marketing matures. We know blogs catch the attention of traffic towards your website, which can directly generate leads. But how helpful is a lead that never constantly actually makes it toward the bottom of the sales focus? Content is able to assist at this stage as well.
At present, B2Bs are utilizing more guides and eBooks, along with hybrid and digital events such as webinars to make safe leads. Content including case studies, newsletters, and blog posts are then leveraged to covert and raise these prospects.
This form of content is mainly relevant as it not only gets better a brand's visibility but also assists consumers to make a decision. According to a recent report, B2B purchaser Behavior Study, more than 50% of the buyers considered content as the most significant factor for selecting a vendor. B2B buyers are more inclined to closing a deal when a vendor provides content that makes it easier to build a business case for the purchase.
If you make use of these content types, they can help inch prospects toward signing on the dotted line. And that's what's essential for a large number of marketers to justify their budgets to their CEOs – actual revenue, not only micro alterations.
Interactive digital events have the prospective to capture consumer engagement and turn it into action. B2B brands can influence their consumers more effectively. It is ultimately driving more down the sales focus by making customized experiences.
Email Personalization: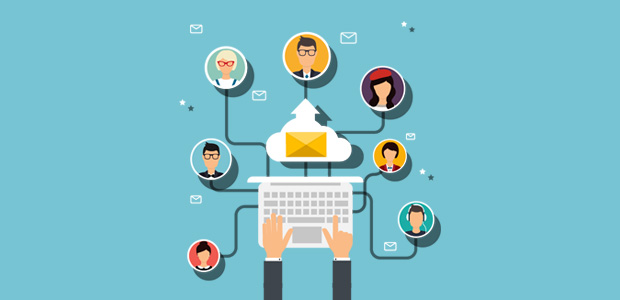 Additionally to LinkedIn, for B2B marketers marketing by means of email has been a trustworthy sharing channel. Approximately 60% of B2B marketers say email marketing is their most effective channel for producing revenue, and it is also the third greatest method to discover information. Here a question will come to your mind what is first and second?
Suggestions from industry thought leaders and colleagues are tough to beat. Personalization has been a goldmine to increase the margins on email even further. Among email marketers who have completely grip personalization, nearly 70% said their arrival on campaigns was "excellent and good". As compared with just almost 40% who are in the early stages of adopting personalization.
Due to the number of tools and templates on the market that make simpler personalized messaging, segment audiences, and outreach, with low reaction rates, it's no longer a game of mass email blasts; brands can now better predict and measure the achievement of their email campaigns.
Local Search Optimization:
Local search is one of the underrated and potentially overlooked parts of 2021 SEO. Google My Business listings have traditionally been most helpful for customer-facing brands with sales strategies and geo-targeted marketing. Natural results in Google search engine result pages scrape business data from GMB,. It is permitting searchers to discover information about organizations, their physical locations, their contact info, and user reviews, and the products they sell.
Re-optimization:
You know that there are large amounts of content on the web. So flooding search engine result pages with new content is not really the greatest method to break onto Page 1. As new content needs starting from scratch with exterior link gathering and waiting for Google to actually rank and index your page.
And as the chart above shows, you practically can't exist. if you're not ranking in the top three spots in search engine result pages. On the other hand, Re-optimizing existing posts permits you to keep your current URL structured and your page's already-earned link SERP positioning and equity.
At present, B2B brands are rising up their development of long-form content, particularly. In-depth articles, evergreen, and guides lists are perfect formats for constant optimization over time. They require just minor alterations to drive higher in search engine result pages year after year.
Final words:
This year of 2021 is probably to be one of big change and experimentation. Staying up with the latest trends will assist you to focus on your marketing efforts to adapt to new trends. If you want to make your web development company the best this year, you should focus on the above-discussed trends. This will help you to grow your company worldwide. Hope you gain extreme knowledge from this article. To read more blogs and articles related to web designing and web development, get in touch with us. In the future, we will provide you with more quality content.